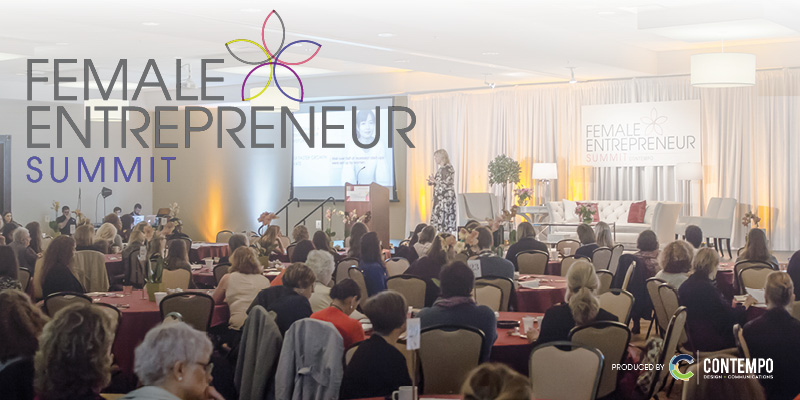 SEVENTH ANNUAL FEMALE ENTREPRENEUR SUMMIT RETURNS WITH OUTSTANDING SPEAKERS AND GREAT OPPORTUNITIES FOR LEARNING AND NETWORKING
 Save the Date: October 24, 2018
 Warrensville Heights, OH, June 1, 2018 – Contempo Design + Communications will once again present the Female Entrepreneur Summit (FES) – an annual day devoted to the female entrepreneur – on October 24 from 8:00 a.m. to 4:30 p.m. at 700 Beta Banquet Conference Center in Mayfield Village. The seventh annual summit is Cleveland's signature event for female business leaders to connect, learn and grow.
More than 20 successful industry professionals will share opportunities and personal testimonials. Female entrepreneurs will take away practical insights, honest advice and proven tactics to help their companies grow and thrive.
Sessions at FES will include:
How to think like the top 2% of Female Entrepreneurs
A Panel of Top NEO Female Entrepreneurs on the Rise and on the Go
Life of the Brand and Your Business
Professionalizing Your Business
10 Ways to Enlist PR, Media Relations and Advertising to Gain Exposure for Your Company
Intentional Networking
A lunchtime program will feature a panel discussion and wine sampling from three female entrepreneurs who are wine makers, founders and industry disruptors.
The daylong event includes multiple networking opportunities at a Sponsor Showcase area featuring more than 20 resource tables and concludes with a draw for a variety of valuable door prizes.
Presenters at this year's Summit come from a variety of industries and include:
Eleanor Beaton, Keynote
Amy Husted & Audrey Wallace, Co-Founders, Komae (first place winners of FES 2015 pitch competition)
Renea Woods-Baylor, CEO, OFG Advisors, LLC
Charu Ramanathan, Ph.D., Co-Founder & CEO, vitalxchange
Margie Flynn, Senior Partner & Co-Founder, BrownFlynn
Deborah Spake, Dean, College of Business Administration, Kent State University
Heidi A. Boehlefeld, Managing Partner, Renner Otto
Renée DeLuca Dolan, President & Founder, Contempo Design + Communications
Sue Stabe, Brand Strategist & Co-Founder, Long & Short of It
Michele Hoza, Partner, Business & M&A, Buckingham, Doolittle & Burroughs
Pam Lebold, CPA, Maloney & Novotny
Lorri Slesh, Strategic Planning Director, Ahola Human Capital Management
Cielo McClain, Marketing & Advertising Executive & Entrepreneur
Marcia Pledger, Financial Journalist and Author, The Plain Dealer
Stacey L. Vaselaney, President, SLV Public Relations, LLC
Patrice Blakemore, Business Advisor to Goldman Sachs 10,000 Small Businesses and Cuyahoga Community College
Winemakers – Destiny Burns, Owner, CLE Urban Winery, Berlin Crystal Kelly, Founder, Proud Pour & Marisa Sergi, Founder & CEO, RedHead Wine
"I'm thrilled to bring back this event for the seventh year running. When we first created FES it was designed to give female entrepreneurs their own space to interact with other successful women who have paved the way … and clearly it's still our mission and needed more than ever," said Contempo Design + Communications President Renée DeLuca Dolan. "This year's program is one of the best – with compelling speakers, productive networking opportunities and subject matter that directly speaks to the female entrepreneur, whether she's in a start-up or scale-up mode."
Tickets are $199, with an early bird discount PROMO CODE: EARLYBIRD2018 for $50 off offered through June 30, 2018. Sponsorship opportunities exist at multiple levels. To register and learn more about the conference visit www.contempocleveland.com/fes.
Contempo Design + Communications is the event producer and the presenting sponsor is Kent State University College of Business Administration. Host Committee Sponsors include Ahola Human Capital Management, Buckingham, Doolittle and Burroughs, LLC, Maloney + Novotny, Ursuline and Renner Otto.
 #FESCLEVELAND
 About Contempo Design + Communications
Founded in 1996 by Renée DeLuca Dolan, as Contempo Communications, the company today is a full-service design and communications firm providing visual branding, environmental graphic design and digital creative for businesses and organizations throughout Northeast Ohio. Contempo Design + Communications is the official design partner of the Cleveland Indians.