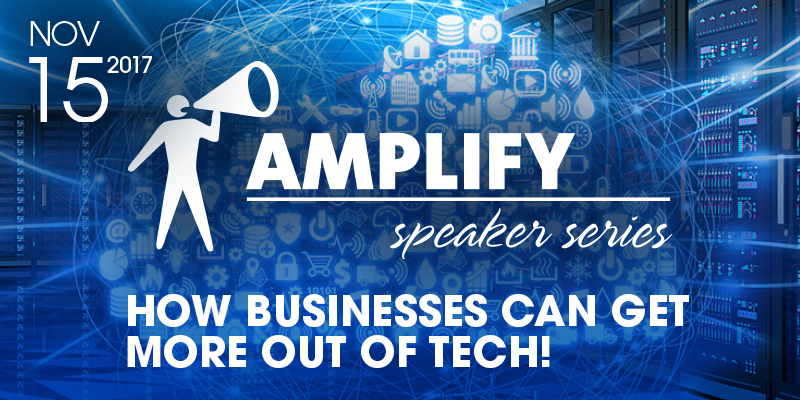 FOR IMMEDIATE RELEASE
NOVEMBER AMPLIFY PROGRAM: HOW BUSINESSES CAN GET MORE OF OUT OF TECH
Know the latest digital advances that will impact your business
CLEVELAND, OH (October 23, 2017) Cleveland tech leaders will discuss emerging digital technologies at the next Amplify program, presented by Contempo Communications. The networking and luncheon program will take place on Wednesday, November 15 at the DoubleTree Tudor Arms Hotel, 10660 Carnegie Avenue, from 11:30 a.m.–1:30 p.m. The ticketed event is open to the public.
Deborah Spake, dean of Kent State University's College of Business Administration, will facilitate the program that will feature presenters who are well-versed in the latest tech advances including artificial intelligence, augmented reality and predictive analytics. Each guest will present a 10-minute "TEDx-style" talk followed by audience Q&A.
Additional presenting sponsors of the November program are Kent State University College of Business Administration. Annual sponsors of the Amplify Speaker Series are Goldman Sachs 10,000 Small Businesses, Omni Media, and event sponsor, Cuyahoga Community College.
Panelists and topics:
Paul Roetzer, founder and CEO, PR 20/20, will discuss how digital advances such as artificial intelligence, predictive analytics and machine-generated content place more power into the hands of marketing professionals. He's an author of several books and contributes regularly to industry blogs on the intersection of marketing and technology.
Seth Pinckney, client manager in the Information Technology Center of Excellence at Cuyahoga Community College, will discuss why businesses need a website that delivers optimal SEO and inbound leads. He is also the co-founder of Hack Cleveland, a project of Cleveland Neighborhood Progress, which addresses systemic inequities through, by and with technology.
Erika Port is owner of Erika Port Consulting Group, LLC, and an experienced search engine marketer who helps B2B, B2C and e-commerce businesses maximize their online presence. Erika also teaches digital marketing courses at Cleveland State University. She'll share how businesses can improve online marketing efforts by understanding user intent and SEO.
Tickets must be purchased in advance for $45 each and tables of eight and sponsor packages are available by clicking here.
About Amplify
The Amplify Speaker Series is a program presented by Contempo Communications, a full service design and communications firm founded by Renee DeLuca Dolan in 1996, headquartered in Warrensville Heights. The program, now in its 11th year, brings business and community thought leaders together for an active forum on issues of topical relevance to greater Cleveland.
###