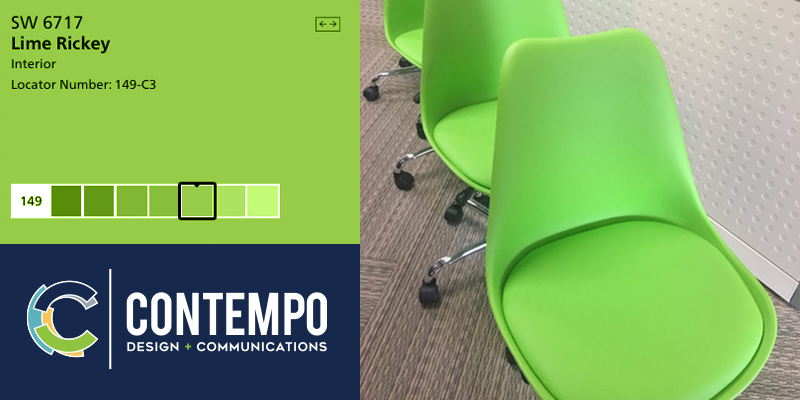 By: Renée DeLuca Dolan
I am asked this question often and recently my Senior Art Director asked me how I get my inspiration to tackle design projects.
Honestly, I'm inspired by so many things! It's hard to answer this question with just one answer.
But lately, I told him, I get design inspiration from my lime green chairs.
They're bright (really bright!), trendy, functional and they make me smile everyday when I walk in and see them in my office. They're hard to miss!
I love color theory and lime green signifies hope, rejuvenation and creative thinking. According to a study led by the University of Munich, green is the second most abundant color in the universe—blue is the first.
The research team lead, Stephanie Lichtenfeld, reported that the nature-derived color "has implications beyond aesthetics" and even just a glimpse of green could trigger "the type of pure, open (mental) processing required to do well on creativity tasks." As a designer, I can always use more of that!
I first discovered Lime Rickey SW 6717 when we were working on the environmental graphics at Progressive Field. It was so stimulating and uplifting and, although bright at first glance, its actual painted wall application gave me an overall calm feeling. I also found it made me feel inspired and happy, so we adopted that color when we repainted our offices a couple of years ago and we've incorporated it into our new company logo.
Recently, I came across some lime green chairs and I had to have them. Now they surround a glass table in my office and not a day goes by that I don't walk into my office and smile at my lime green chairs and my Lime Rickey wall.